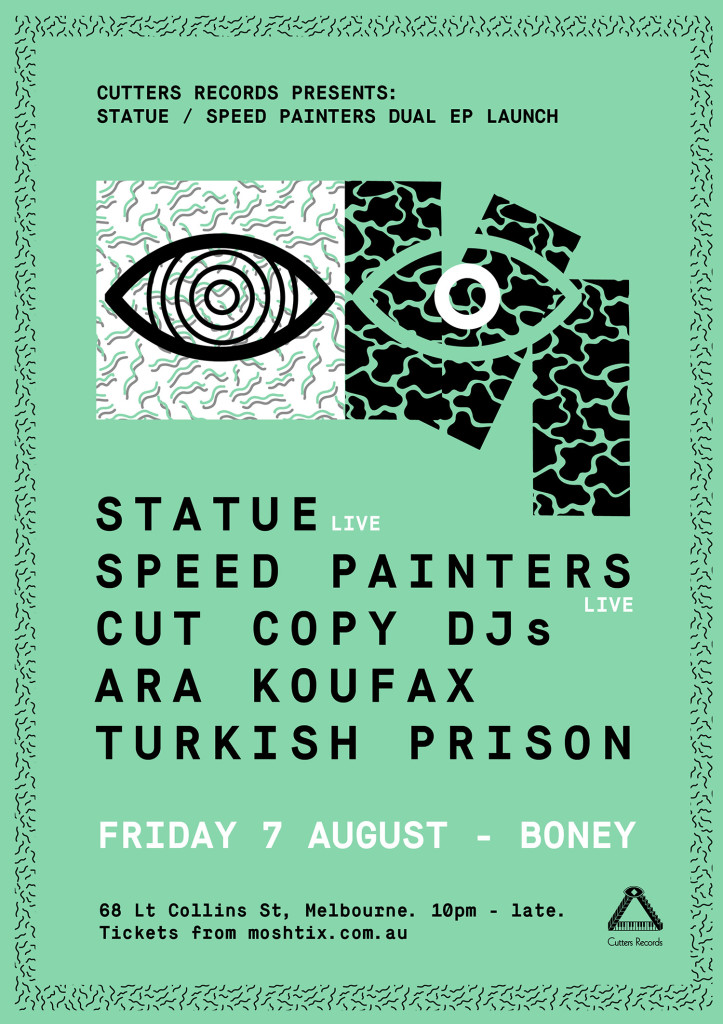 We are excited to announce the launch of new EPs for two unique acts to emerge from the dark strobing shadows and smoke machine haze of Melbourne's dance underground. STATUE and SPEED PAINTERS will be performing live for the first time alongside CUT COPY DJs, ARA KOUFAX and TURKISH PRISON. It's a stacked lineup, so make sure you track down a ticket early before they sell out!
Statue / Speed Painters Dual Launch:
STATUE (live)
SPEED PAINTERS (live)
CUT COPY DJs
ARA KOUFAX
TURKISH PRISON
FRIDAY 7th AUGUST – BONEY (10pm til late)
——————————————————————
——————————————————————
more info below—>
STATUE (LIVE) is a new percussion-based dance project erected by two unique drummers, Tom Gould and Nicolaas Oogjes. Having become known for laying rhythmic foundations of cult Melbourne dance bands WORLDS END PRESS and NO ZU, the pair have now joined forces to unveil STATUE, a strange new landmark in the dance music landscape.
SPEED PAINTERS (LIVE) are a unique collective of musicians who improvise simmering, slow-burning house music, built from a foundation of techno, disco and experimental/found sound. Over the past few years, the group have bewitched dancefloors in the rainy backyards, band rooms and basement clubs of their hometown of Melbourne, building a cult underground following, and culminating in their debut release BELLARINE.
CUT COPY DJs have just returned from a US DJ tour and have a new bag of records to showcase. Now back in the studio, this is likely to be one of their only Melbourne appearances for the year.
ARA KOUFAX DJ SET their debut track "Brenda" was a hit on the Cut Copy compilation Oceans Apart and these lads sure can DJ, expect some late-night HEAT from this duo!
TURKISH PRISON is another inclusion from the recent Oceans Apart compilation. Having put out the excellent "Ancient City" release last year on Siberia Records and toured the US with Cut Copy, be prepared for a diverse and surprising set.
We can't wait for this one to come around. Hopefully we'll see you at the show!
STATUE & SPEED PAINTERS DUAL LAUNCH – 7th August @ Boney. 10pm – late.